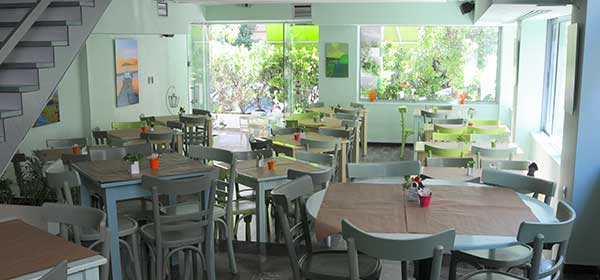 Favorite restaurant in Eksarxia
Rififi restaurant having just closed its first decade, managed to be included in the list of the restaurants we would call "classic". Keeping always its quality as well as its aesthetics renews its flavors in such frequency that its friends have always the opportunity to taste something new, accompanied to the dishes which were loved over the years and remain a special choice! Being oriented from the begginign to create unique flavors, combines high-quality ingredients in affordable prices; Rififi restaurant is a fine choice not only for lunch but also for an evening going out.

Creations by Anna and Stathis
This summer our menu is curated by two talented people. Anna and Stathis choose to combine pure ingredients from all over Greece and by "teasing" traditional recipes, they offer to our surprised palate unique and special flavors!
Braised lamb for 24 hours, flavored with fresh thyme and antinachtes potatoes, pork neck Braised for 12 hours in balsamic sauce with ginger and black currants accompanied by mashed sweet potatoes, fresh handmade Papardelle with minced variety of mushrooms and black truffle oil are some of their suggestions! Whatever you taste will amaze you!